You have video files in mp4 format and you want to convert them into text? You're at the right place.
Transcribe in +30 languages
You can upload MP4 in any language! Audiotype transcriber videos in the most common languages.
We support any video & audio format
Audiotype accept the most common audio and video file formats. Simply upload all the file you need to convert into text and we'll do it automatically.
Turn your MP4 videos into text or subtitles
Upload one or multiple videos and Audiotype will convert your video into text automatically. Export that text into simple text files or subtitles formats such as srt or vtt.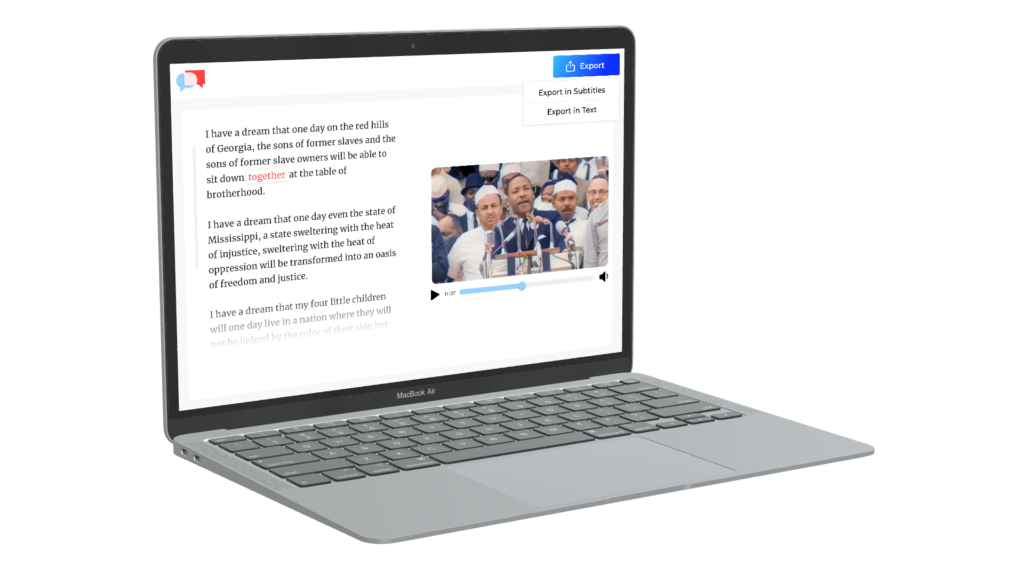 Thanks to our powerful voice recognition algorithm, we convert so fast that our competitor call us "the Usain Bolt of transcription" (not true).
Need subtitles or closed-captions for your video? Export your transcript into subtitles files with Audiotype and save time doing video project.
Don't waste time by creating an account, get straight to the point. You need video to text conversion, that's what you'll get with us.
Need conversion for multiple files? You can! Upload up to 10 videos in a row with Audiotype!
Our MP4 to text converter will convert your text into any text format like pdf, doc or txt. Just export what you need.
Drag and drop your files and we'll take care of the rest. Audiotype will convert your MP4 into text in only a few minutes.
Audiotype is a transcription service that allows you to convert your MP4 video files into an editable text at an affordable rate. Audiotype is an affordable transcription service with a flat rate per hour, making it one of the most economical transcription services available.
How to convert MP4 into text?
1. Upload one or multiple MP4 files
Click on the following button to start uploading your videos. You can upload up to ten videos.
Simply indicate the language spoken in your video to help our algorithm to better convert your videos into text.
3. Export your transcript or subtitles
We will convert your mp3 files automatically into text! Once done, export that text into subtitles or plain text files.
Frequently Asked Questions
Audiotype uses the power of Artificial Intelligence to convert MP4 videos into text. That is why our transcription are done so fast.
Of course! Save time by uploading up to 10 videos and audio files in a row.
Absolutely! We know how subtitling a video can be a pain. With Audiotype, export your text into subtitles files.
They are teacher, video producer, journalist or student and they all need to convert video into text.
Steve D.
Journalist
I had over 16 hours of interview to transcribe. Thanks to Audiotype this was done in 30 minutes!
Charles M
Video producer
Audiotype saved my life! Seriously I saved to much time transcribing tones of videos. Thank you guys!
Diana F
Teacher
I record all my Zoom classes. Thanks to audiotype.org I was able to transcribe them all and send the transcript to my students.
Start converting your MP4
Click on the button bellow to start uploading your mp4 files and convert them into text in a few clicks.
Free trial • No account required