Audio Transcription & Video Subtitles
Audiotype is an automatic transcription software that enables businesses and organizations to quickly and accurately transcribe audio files. It is a simple solution that doesn't require any technical knowledge or experience.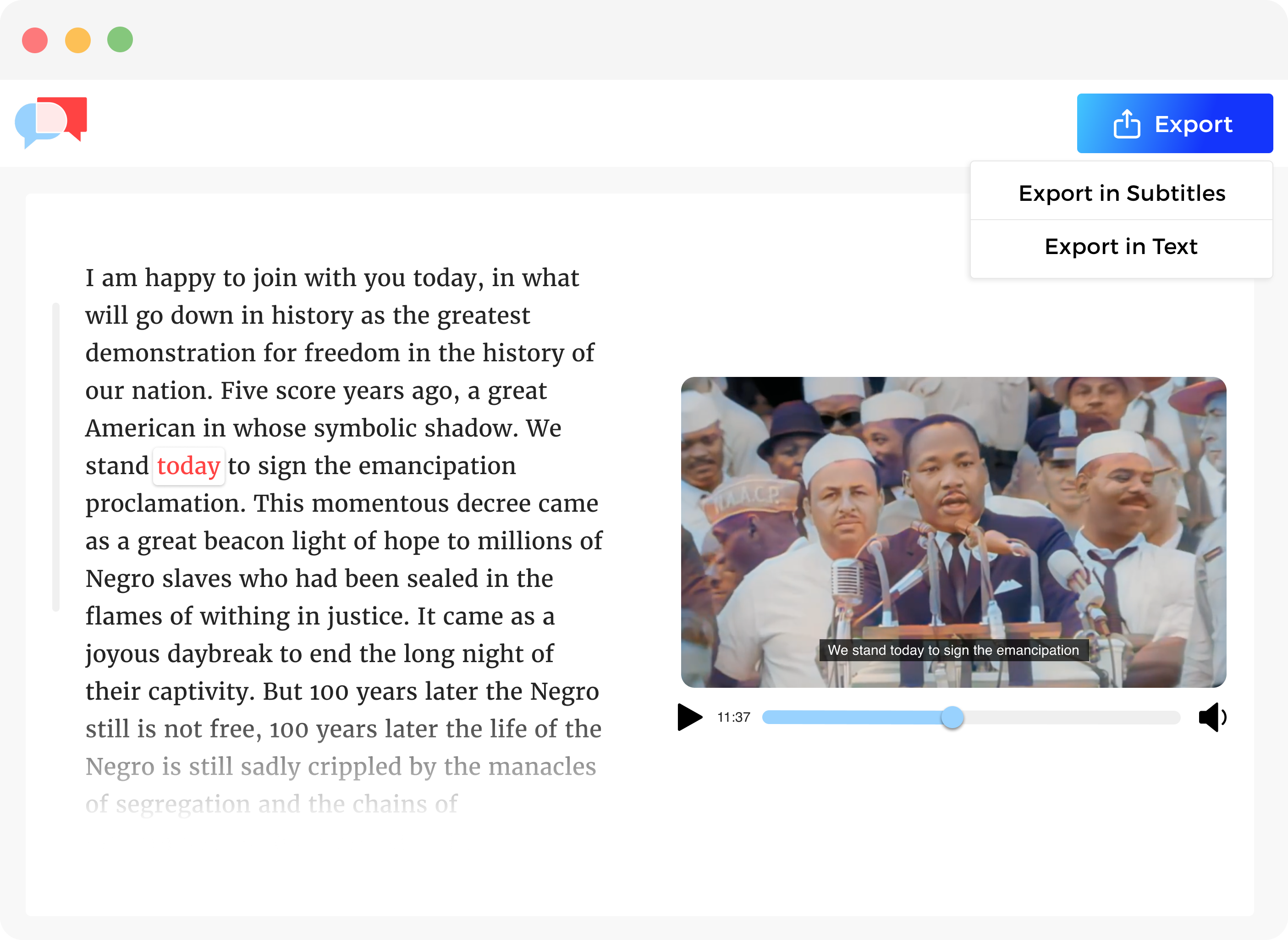 Audiotype is a transcription software that provides private and secure transcription services for digital audio recording.
Our transcription average 80-90% accuracy. Save hours of time by transcribing by Audiotype. Edit your transcript and make it perfect.
Audiotype is the only audio-to-text converter that doesn't require to create an account. Simply upload your files and get them transcribed.
Audiotype uses the power of voice-recognition and AI powered transcription to convert your files into text in record time.
Export or share your transcript with your friends of colleagues and make your media content accessible to anyone.
Our transcription is 100% automatic and doesn't require any manual action. Upload your files and receive the transcripts a few minutes later.
15% of our users are deaf or hard of hearings
Knowledge should have no sound barrier
The Internet is filled with thousands of hours of video and audio content. As the Internet is well known to be a place of accessibility to knowledge, people with hearings disabilities can sometime feel discriminated. That is where AI powered audio transcription comes into play. Our automatic transcription software can convert any video or audio files into a readable document. We believe in an Internet that is truly accessible to anyone.
We transcribe in 30+ languages
We offer automatic transcription for audio and video files, making it easy to transcribe over 30 of the most common languages in the world. Just upload your files and you'll have your transcript in a few clicks.
Convert anything into text
Our automatic transcription software can swiftly transcribe your audio files no matter what format they are in; we support all audio and video formats currently available.
We assist thousand of users in their workflow
Thousands of users already use Audiotype whenever they need an audio transcription. Whether its for simple transcription, document archiving or subtitles generation, we got your covered.
Audiotype is now saved as one of my favorites. By the way, the cost was very reasonable as well. Thanks guys!!!
Great transcription! There were a few typos but it gets the job done! Will use it again!
As an RH manager I have to take notes for many interviews, this solution saved me a lot of time.
Super quick and reliable! It makes mistakes sometimes but its pretty efficient!
Amazing, quick and reliable ! 100% recommended
Great tool! Saved me tons of time!
Transcription for professionals
Thousands of professionals use Audiotype today as a part of their workflow. Whether you are a journalist that need to transcribe an interview or a teacher willing to share a course with your students, Audiotype is the way to go.
Trusted by well known companies and universities

Audiotype is one the most accessible transcription software on the market. Our speech-to-text converter is accessible to students. We believe that automatic transcription should be something that anyone can do whether it is for personal or professional purposes.
Transcribe your files into text!
No particular skills required, simply upload your files on our platform and we will transcribe them into text. We transcribe the first minute of your file for free.
Free trial • No account required