Hungarian Transcription service
Transcribe Hungarian audio and video files into a text or subtitles.
Works for video and audio​
Upload your Hungarian files to convert your audio and video files into a full transcript.
Download your transcript into subtitles or text​
Get your transcript into a readable and fully editable document (subtitles or text formats).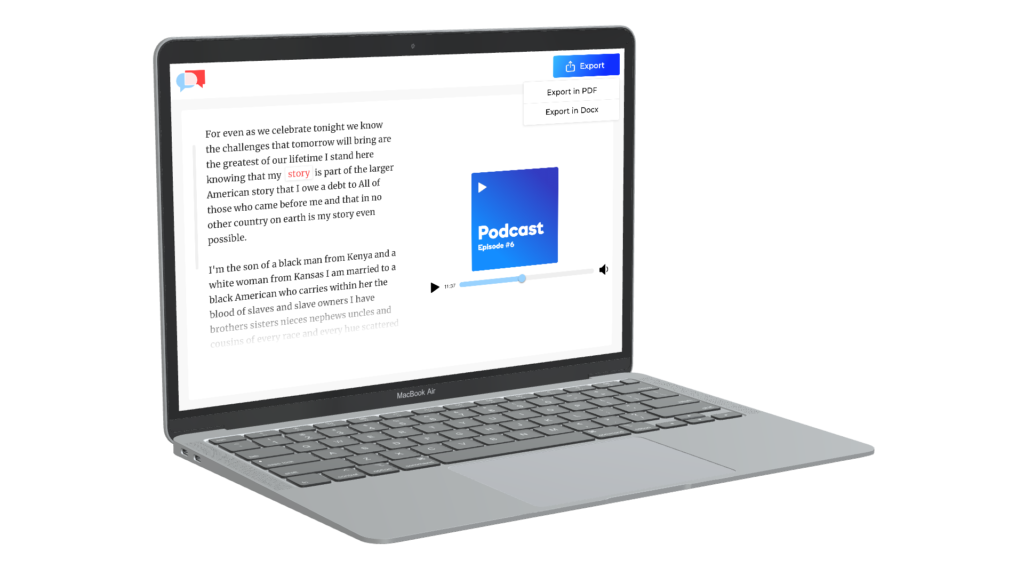 Transcribe more than 30 languages​
Audiotype allows you to transcribe your files in over 30 languages from Hungarian to Chinese or French.
Audiotype multilingual transcription software is a great option for anyone who needs to transcribe audio or video files in multiple languages. This powerful software accepts 30 or more languages and is one of the most affordable of its kind in the market. With an intuitive user interface, anyone can easily get started with this software. It offers fast and accurate automated transcription, as well as plugins for easy integration into existing workflows.
Our file uploader allows you to get up to 10 files transcribed in a row.
Our AI transcription software automatically add punctuation to your transcript.
Download your transrcript in any text format such PDF, TXT or DOCX.
Audiotype automatically detect and split your transcript into multiple paragraphs.
Export and download your transcript in a subtitles file format such VTT or SRT.
We are not a marketing company. Simply upload your files to convert them into text
Frequently asked question​
Our transcription service is super fast. For example, we transcribe an 1 hour long file in 5 minutes. Bear in mind that this is just an estimation and thay may vary with the file size.
Using Audiotype's transcription services is the guarantee of having a fast accurate Hungarian transcription for any or your audio and video files.
Once your transcription is completed you can export your Hungarian transcript in any text of subtitles format that you want. We offer a variety of files such as PDF, ,DOCX, TXT, SRT or VTT.
Here are few reviews of customers that, like you, need a Hungarian transcription service.
Steve D.
Journalist
I had over 16 hours of interview to transcribe. Thanks to Audiotype this was done in 30 minutes!
Charles M
Video producer
Audiotype saved my life! Seriously I saved to much time transcribing tones of videos. Thank you guys!
Diana F
Teacher
I record all my Zoom classes. Thanks to audiotype.org I was able to transcribe them all and send the transcript to my students.
Fast Hungarian transcription service​
Simply start by uploading your Hungarian audio and video and get them transcribed now.​
Free trial • No account required